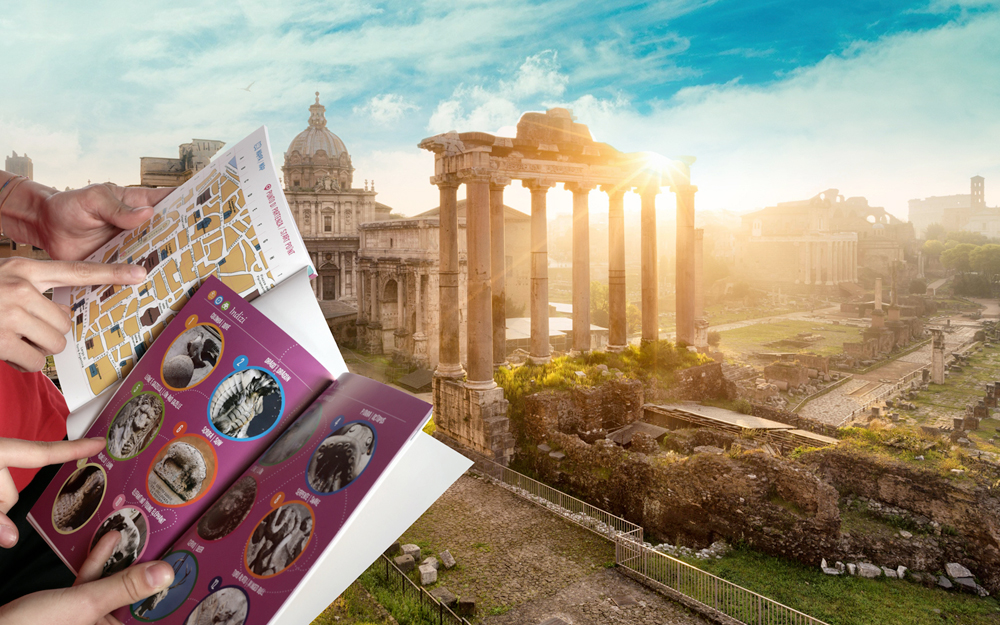 Safari d'arte EASY Italy Travel Guide Book
Target group for Safari d'arte Italy Travel Guide Book: Groups of people who want to manage their time independently with a small purchase with Italy travel Guide Book.

What you will get: The Safari d'arte Italy Travel Guide Book includes the selected tour book, provided with a detailed map showing the main Safari d'arte treasure hunt points of interest, 12 clues with pictures, coordinates and detailed descriptions of the artworks, including interesting stories and information about the area, a final 12 question quiz to test what you have learned along the tour.

Things to bring: Your Safari d'arte Travel Guide Book, comfortable shoes and your interest in learning and discovering things in a new and fun way.

How to buy: You can purchase your favorite Safari d'arte Italy Travel Guide Book itinerary on our website. Free shipping for all orders. The book is also available in the bookshops of Rome, Florence and Milan's museums.

Once you receive the book, you have all you need to start your Safari d'arte. Decide whether to explore the city on your own or challenge your friends:
Reach the starting point indicated on the map
Use the map to orient yourself and start the clue search!Each clue is represented by a picture and its position marked by specific coordinates (the whole clue progression will form a 2 hour guided itinerary)
When you you get to a monument, read its story and find out interesting details about the location. Let each clue carry you away with a charming historic atmosphere and learn new things in a fun way.
Answer the test question at the bottom of each page to prove your observation skills. But the game is not over yet!
Once you have finished the Safari d'Arte itinerary test yourself and answer the final quiz. Do not cheat! Use your memory skills!
Choose your favorite itinerary, become an art treasure hunter and go adventuring with Safari d'arte Italy Travel Guide Book.
You can choose among the following Safari d'arte Italy Travel Guide Book
You can play Safari d'arte® in three different ways:
The book you buy is equipped with a map, clues, art and historic descriptions, unique details to discover and a final quiz so you can manage the game independently, with the people you wish, in the moment you choose.
You can take part in one of our tours, guided by our activity leaders. Each tour operates according to a set schedule and timetable. Choose the most suitable for you and join us!
By choosing this option you can have your own private tour and plan both date and time. Our activity leader will be fully available to personally guide you.
Copyright © 2015 Ara Macao | All rights reserved | P.I. 08996411008 | C.F. 97313830586 | Powered by CerberoStudio